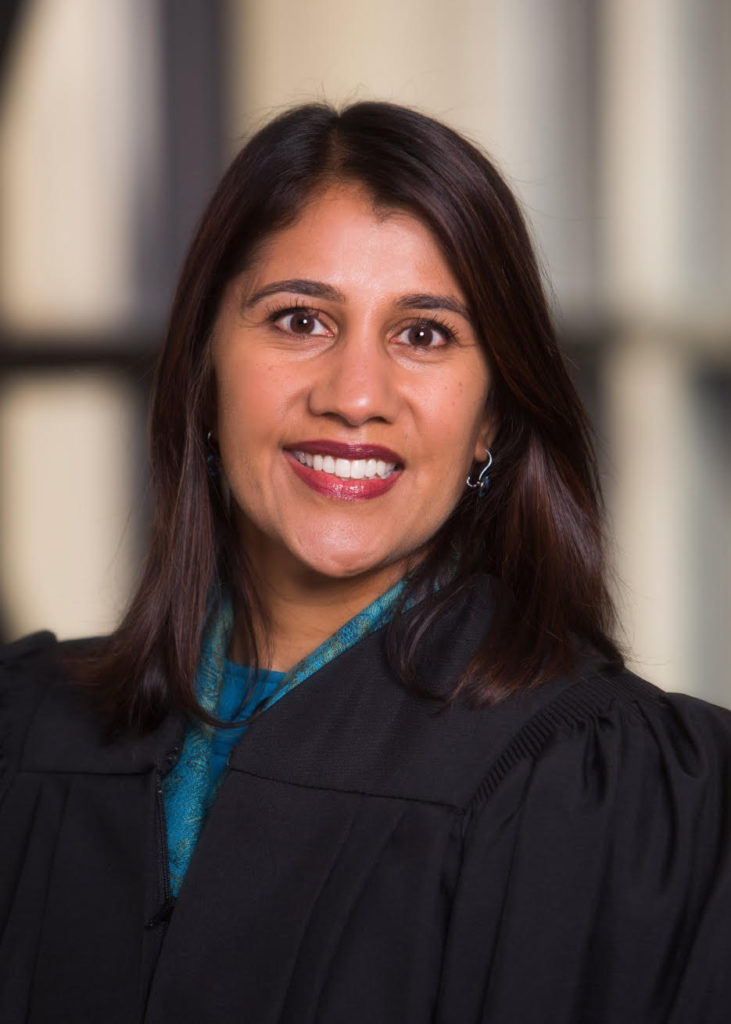 The Hon. Judge Rupal Shah 
Judge Rupal Shah is the first Indian American judge appointed to the Connecticut Superior Court. She was appointed in April of 2014. Judge Shah currently serves in the civil division, housing session of the Hartford Judicial District.
Before her nomination to the Connecticut judiciary, Judge Shah was an Assistant Attorney General with the Connecticut Attorney General's Office. During those eleven years, she handled significant, complex and high profile cases in both the trial and appellate courts. She represented the Department of Revenue Services in several appellate cases before the Connecticut Supreme Court. She represented the State of Connecticut on the Tobacco Master Settlement Agreement and handled other complex matters, including the Fort Trumbull environmental litigation and large securities fraud actions as part of the Presidential Federal-State Task Force investigating residential mortgage backed securities.
She also worked for the firms of Bingham McCutcheon, where she practiced in the areas of cross border insolvencies, financial restructurings and transactional work, and Cohn Birnbaum & Shea, where she represented business clients in general commercial matters. In addition to this private sector work, she also did extensive work for Lawyers Without Borders, a non-profit organization that she first represented as a pro bono client and later as a volunteer and active board member working on all aspects of the organization's nonprofit work. Among other pro bono work she did at the time, she also represented a pro bono client from Cameroon in a removal proceeding and obtained political asylum on his behalf.
Judge Shah has been active in a variety of community and professional organizations. She has served on the board of My Sister's Place and as a mentor through the Nutmeg Big Brothers Big Sisters. She was elected the first female President of the South Asian Bar Association of Connecticut ("SABAC"), served on SABAC's executive board until 2009 and has also been active with the Oliver Ellsworth Inns of Court, the Connecticut Bar Foundation, the Lawyers Collaborative for Diversity, the South Asian Bar Association of North America, and the ABA INS Detention Standards Committee. She served as a co-chair of the South Asian Women Attorneys Network from 2012-2014.
Recognized for her community service contributions, Judge Shah received SABAC's 2008 Community Service Award and a 2008 Law Day Diversity Award from the Connecticut Judicial Branch. She received her Bachelor of Arts from the College of the Holy Cross in 1995 and her Juris Doctorate from Georgetown University Law Center in 1999.