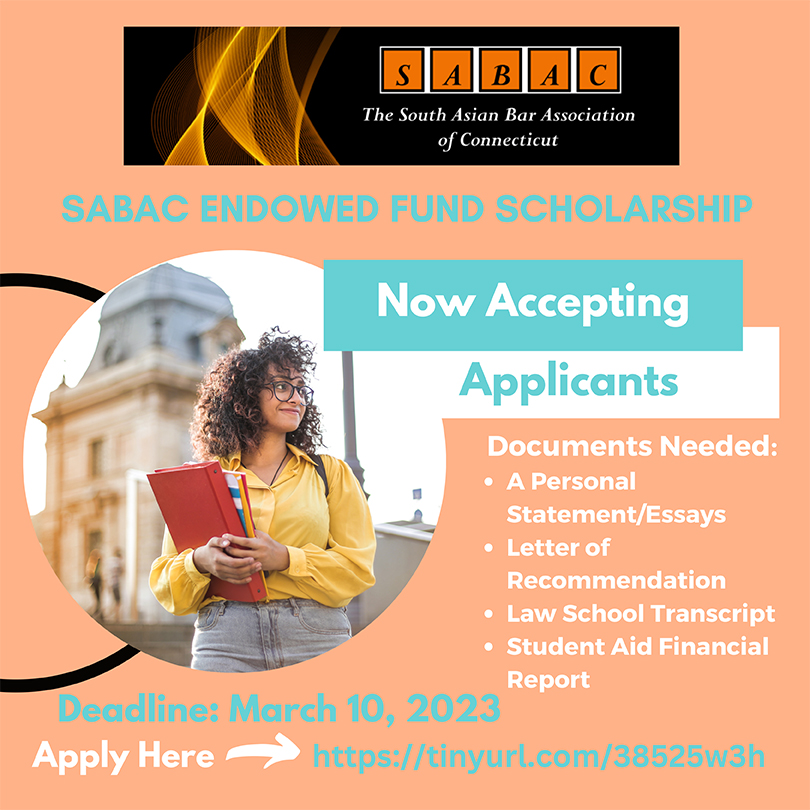 Award amount:  $3,000.00
Number of awards: One
Scholarships awards are for the 2023-2024 academic year.
Recognition as the 2023 SABAC Endowed Fund Scholar at the SABAC Annual Awards Dinner to be held in the fall of 2023.   
Note: The application must be submitted through the Hartford Foundation for Public Giving online scholarship portal: https://tinyurl.com/38525w3h
Questions about the Scholarship may be directed to Nandita Ruchandani at [email protected].
Criteria : Preference will be given to students meeting all or most of the following:
For the 2023-2024 academic year, will be enrolled in the Quinnipiac University School of Law, UConn School of Law, Western New England University School of Law, or Yale Law School as a 2nd, 3rd or 4th year student;
Of South Asian descent or demonstrate a commitment to serving the South Asian community and/or culture and heritage
In good academic standing
Demonstrated financial need
Documents Required to Complete the Application:
Student Aid Report (SAR) for 2023-2024 academic year (all pages)
Federal tax return(s) for 2021
Essays:  1) a brief description of your career goals; 2) a statement describing how you meet the selection criteria, and the qualities and experiences that make you a deserving candidate for this scholarship; and 3) Brief statement of Financial Need (optional)
Letter of Recommendation 
Law School Transcript
Instructions to access the application
Go to https://tinyurl.com/38525w3h.
Create a profile and log onto the portal.
Complete the Scholarship Eligibility Quiz questions for scholarship applications to be uploaded to your dashboard.
Click Apply to start an application.