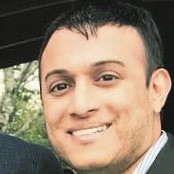 Riju Das
Riju is an attorney and public policy advocate for the state of Connecticut. Currently, he is with the Legal Division of the state's Commission on Human Rights and Opportunities (CHRO), an independent agency that oversees civil rights and employment discrimination enforcement. He is driven to be the change he wants to see in the world in order to right the wrongs, with a focus on social and economic justice issues that address inequities, bullying, and corruption. He is particularly passionate about employee protections in the workplace, addressing the national epidemic of gun violence in our country, and enacting policies that advance historically marginalized communities, which encouraged him to join the Board of the South Asian Bar Association of Connecticut in order to be able to better connect with and advocate for the South Asian community.
Riju has served as a policy advisor for Connecticut's senior U.S. Senator, Richard Blumenthal. Here, the Senator tasked him with working on reforms to reduce the epidemic of gun violence. He was on the Senator's team during the tragedy at Sandy Hook Elementary School in Newtown. Riju has served as the director of external relations and counsel for the Connecticut State Treasurer. Before, he was the aide to the co-chairmen of the state legislature's Appropriations Committee, which, as the most important legislative committee, writes the state budget every year. Additionally, he was a staffer on Hillary Clinton's presidential campaign.
Riju earned his J.D. from the University of Connecticut School of Law and his M.B.A. from the University of Connecticut School of Business. He is an avid fan of the Baltimore Orioles and UConn Huskies football and basketball.