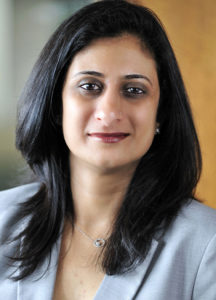 Najia Sheikh Khalid
Najia has been a member of the SABAC Board of Directors since 2015. She served as Co-Chair of the Annual Awards Dinner Committee in 2016, and currently serves as Co-Chair of the Community Service and Public Interest Committee, a role that she has held since 2017.
Najia is a business immigration lawyer who has dedicated her career to helping U.S. and international employers secure work authorization on behalf of individuals with specialized skills needed to grow and thrive. An immigrant herself, Najia leads Wiggin and Dana's Immigration and Nationality Law and Compliance Practice Group and is the firm's first attorney focusing entirely on immigration law. She also serves as Chair of the firm's Inclusion, Diversity, and Equity Committee. Najia is a member of the American Immigration Lawyers Association, has served as a speaker at the annual Immigration Law Conference, and serves on various committees for its local New York and Connecticut Chapters, including being Founder and Chair of the Connecticut Corporate Practice Committee. She is a James W. Cooper Fellow of the Connecticut Bar Foundation. Najia is also a member of the Connecticut Bar Association, serving on its Awards Committee, Diversity and Inclusion Committee, and Immigration Law Committee; the South Asian Bar Association of New York; and the Muslim Bar Association of New York.
Najia obtained her law degree from Elisabeth Haub School of Law at Pace University (formerly Pace University School of Law). While in law school, Najia devoted significant time to the Immigration Justice Clinic and represented indigent immigrants in complex removal proceedings, including immigration raid detainees, women with claims under the Violence Against Women Act, and asylees seeking immigration relief in the United States. She continues similar work on a pro bono basis. She was also employed by Fragomen, Del Rey, Bernsen & Loewy, LLP prior to attending and during law school, where she gained significant experience in business immigration matters that laid the foundation for her current practice. Najia obtained her degree from the University of Michigan – Ann Arbor.